Broccoli Black Bean and Rice Curry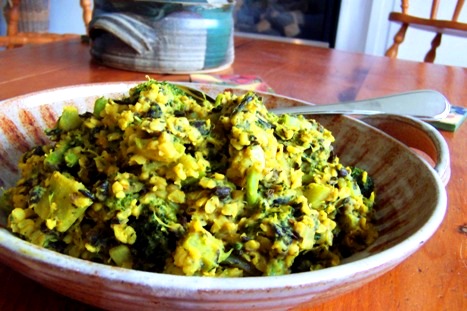 If you are looking for a wholesome vegan meal this is a great choice. It is well known that broccoli is one of the healthiest vegetables available; a great source of iron, calcium, magnesium, vitamins A and C among many others.
Colourful black beans are rich in anti-oxidants as well as protein and fiber. They even have some omega-three fatty acids. Brown rice has an excellent supply of B vitamins, protein, selenium and manganese.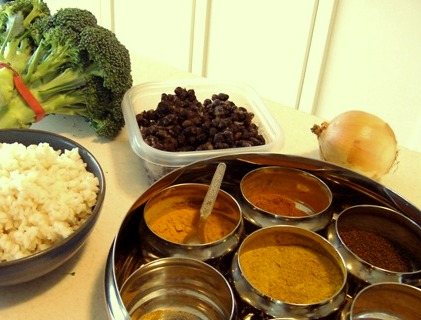 I have grown to love the taste of Indian spices. They make everything so flavourful and exciting. I also adore my stainless steal Indian spice container which I keep replenished with curry powder, turmeric, cumin, coriander, mustard seeds, cayenne pepper, and chili flakes. If you are a fan of curry it is worth looking for one of these at an Indian market.
This recipe is also a low fat dish. Making it a regular meal is a great way to maintain good health. It can be prepared very easily if you have cooked rice and beans handy in the freezer; a practice that is worth the effort. You will be much more likely to prepare a healthy meal when you are tired, will save yourself a lot of money, and there will be hardly any packaging to throw away.
With just a few ingredients in this dish it is quite simple to put together. It will give you four medium portions or enough for two people with second helpings. This is also a great choice to serve to company in a varied menu. You can make it the day before or you could even store it in the freezer.
The Ingredients
2 tbsp. olive oil
1 large yellow onion
2 medium broccoli with stems
2 cups cooked black beans
2 cups cooked brown rice
2 tsp. salt
1 tsp. turmeric
1 tsp. ground cumin
1 tsp. ground coriander
2 tsp. curry powder
1/4 to 1/2 tsp. cayenne pepper
1 heaping tbsp. nutritional yeast (optional)
Heat the oil in a large skillet. Cut the onion into wedges and add to the skillet allowing them to cook on medium while you prepare your broccoli. Make sure to stir them frequently.
Wash the broccoli, peel the stems, and slice them horizontally in four sections. Then chop the stems into 1/2 inch chunks. Cut the top of the broccoli into small florets.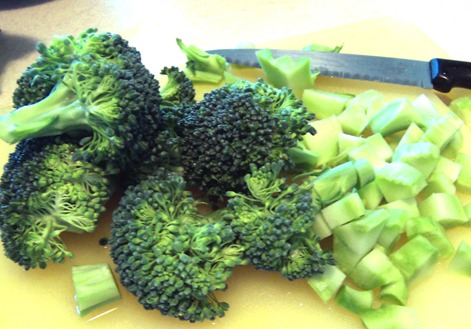 Add the broccoli to the pan and stir-fry for about ten minutes. You don't want it to brown so when the oil seems to be absorbed add 1 and 1/2 cups of water to the pan.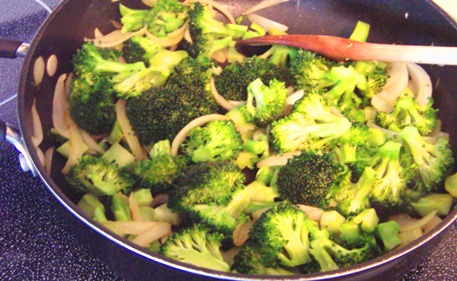 Reduce the heat to medium-low and cover. Let cook until the broccoli is tender when you pierce it with a fork. Make sure to stir frequently and add a little more water if it dries up before the broccoli is done.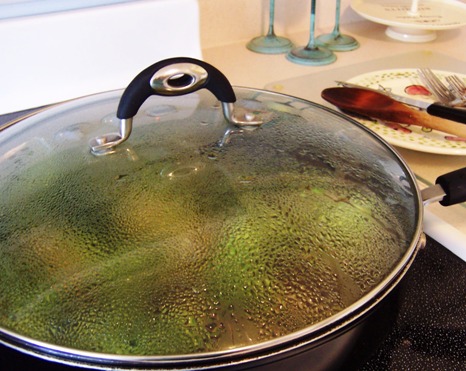 When the broccoli is tender add the rice, black beans, all of the spices, and another cup of water. If you don't like nutritional yeast leave it out, but it does enhance the flavour in a pleasant way that blends with the other spices.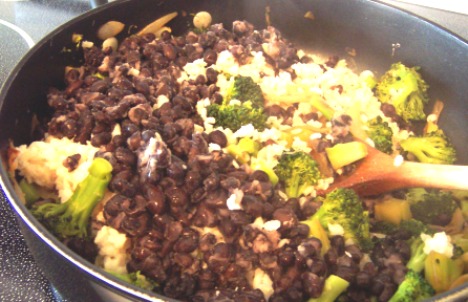 Stir and cook on medium heat until all of the water is absorbed. Remove from the heat and serve.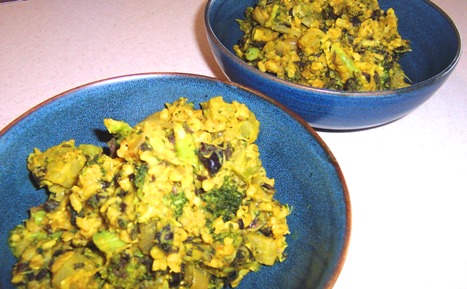 You can read samples of my writing at my author website.
For more fun join me on Facebook.
Tweet me on Twitter.
Friend me on Goodreads.
Check out my Blog.