Valentine Cake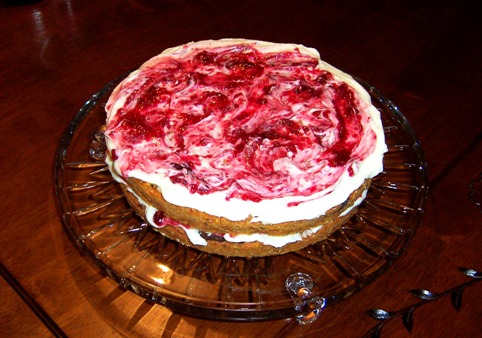 Warning! This rich cake, while laced with thick ribbons of dark chocolate and smothered with lemon icing and raspberry jam, contains some unconventional ingredients—like carrots and celery.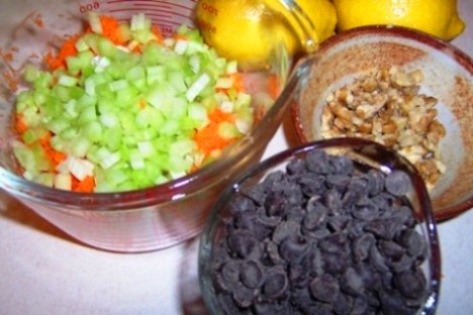 I probably would not have invented such a creation had it not been for Susan V. from Fatfree Vegan Kitchen who was running a contest called Vegetable Love. The rules of the contest were to concoct a healthy valentine dish with at least two vegetables—thus the carrots and celery.
Chocolate is said to be healthy in small amounts, as is whole wheat flour, walnuts, and lemon juice.
But beware, this romantic treat tastes very decadent, and it is advisable to restrain yourself from second helpings.
The Batter
2 cups whole wheat flour
3/4 cup maple syrup
2 tsp. baking soda
1 tsp. salt
3/4 cup lemon juice
1/3 cup vegetable oil
1 tbsp. vanilla
3/4 cup finely grated carrot
2/3 cup finely diced celery
1/2 cup chopped walnuts
1 cup vegan chocolate chips
Pre-heat oven to 350 degrees. Oil and flour two nine inch cake pans.
Wisk together the dry ingredients in a large bowl. In another bowl mix the liquids with the carrot, celery and walnuts.
Mix the liquid ingredients into the dry being careful not to over stir. You want the batter to keep its bubbles so that it will be light. Add 1/4 of the batter to each cake pan and spread gently out to the edges.
Then drizzle the melted chocolate as evenly as possible into both pans. Add the rest of the batter and smooth over top of the chocolate.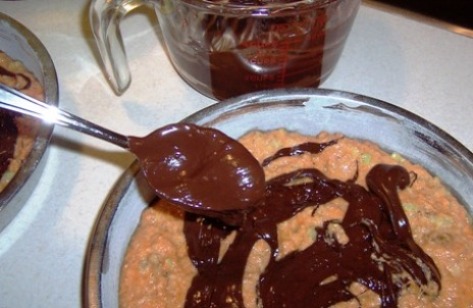 Bake in the middle of the oven for 35 to 40 minutes or until a fork inserted in the middle of the cake comes out clean and the cake is firm. Remove from the oven, let cool for ten minutes, and then invert onto cooling racks.
The Icing
1/2 cup vegan butter (like Earth Balance)
2 cups icing sugar
2 tbsp. lemon juice
1/3 cup raspberry jam
Put the butter, lemon, and icing sugar into a food processor and blend until the icing is smooth.
Cover a cake platter with strips of wax paper to keep it clean while icing. Turn one of the cakes onto the platter and spread it with 1/2 of the icing. Spoon on 1/2 of the jam and swirl it into the icing.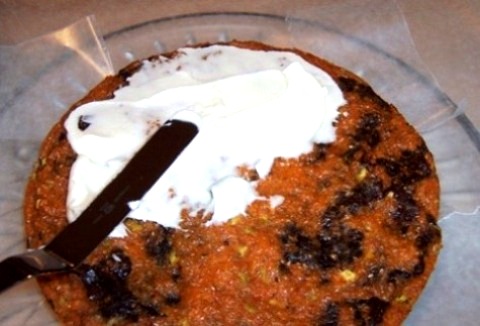 Top with the second layer and ice in the same manner. Carefully pull out the wax paper.
Dark chocolate has a large amount of antioxidants which help reduce free radicals. It has also been linked to serotonin levels in the brain.
Throughout history chocolate has been viewed as having health benefits. Even the Aztecs used it as an aphrodisiac and to fight fatigue. No wonder it is so popular on Valentines Day!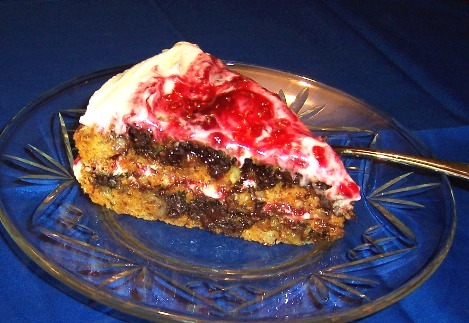 You can read samples of my writing at my author website.
For more fun join me on Facebook.
Tweet me on Twitter.
Friend me on Goodreads.
Check out my Blog.