Cream of Broccoli Soup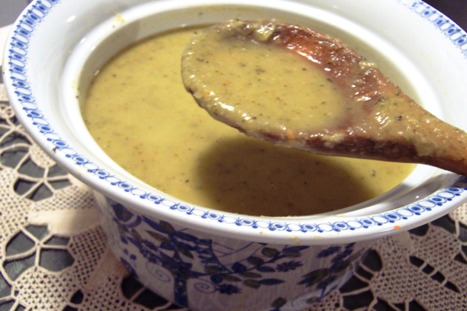 This is a nice light soup that gets its creaminess from pureed chickpeas. It has a wonderful flavour, is nutritious, full of fibre and protein, and makes a fabulous base for a gravy or sauce. In fact I use it for the sauce in my Vegan Easter Pot Pie. A healthy gravy is very gratifying over potatoes, french fries, or anything you can imagine. So if you make the soup, think about utilizing this gravy recipe.
Soup is always nice to have on hand in the freezer for times when you want something quick and comforting. Cooking it yourself in batches is a healthy way to save money. Store it in 2 cup servings for a fast meal.
The Ingredients
3 tbsp. olive oil
1 large yellow onion, cut in wedges
1 large broccoli with stem and leafs, chopped
2 large carrots, sliced
4 to 5 whole cloves of garlic
1 inch of freshly grated ginger(optional)
16 cups of water
4 vegetable bouillon cubes
6 cups cooked chickpeas
1 tsp. dried thyme
1 tbsp. dried basil
1 tbsp. dried oregano
1 tsp. salt
1/2 tsp. freshly ground pepper
In a large stock pot, heat the oil and sauté the onion, broccoli, carrots, garlic, and ginger for about 10 minutes, stirring frequently. Add the water, bouillon, spices and chickpeas.
Bring to a boil and simmer with the lid on for about 20 minutes or until all of the vegetables are tender. Use a hand blender to puree the soup until it is creamy smooth.
You can read samples of my writing at my author website.
For more fun join me on Facebook.
Tweet me on Twitter.
Friend me on Goodreads.
Check out my Blog.