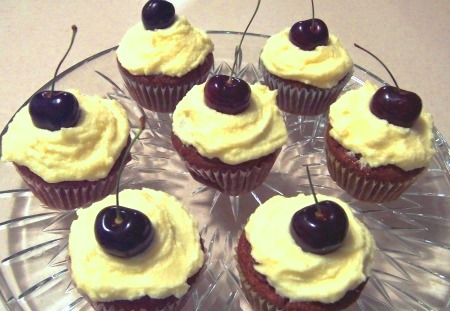 Moist and delicious, with a hint of orange, chocolate and spice, the cherry on top of the creamy orange icing makes them extra special.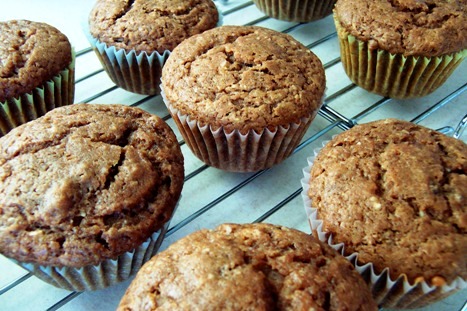 Instead of cherries, sprinkle with home-made pralines, ground nuts, chocolate shavings, or toasted coconut.
This recipe makes 24.
Dry Ingredients
3 1/2 cups unbleached flour
1 1/2 cups sugar
2 1/2 tsp. baking soda
1 1/4 tsp. salt
1 tbsp.cinnamon
5 tbsp. cocoa
4 tbsp. finely grated unsweetened coconut
Wet Ingredients
2 1/3 cups orange juice
3/4 cup vegetable oil
2 1/2 tbsp. apple cider vinegar
1 tbsp. vanilla
Position rack to bottom third of oven. Preheat to 350 degrees. Place 24 large sized cupcake holders in 2 cupcake tins.
Mix together the dry ingredients in a large bowl. In a separate bowl combine the wet ingredients. Pour the wet into the dry and stir just until the flour is moistened. Do not over stir or you will reduce the bubbles and your batter will not be as light.
Immediately spoon the batter evenly into the cupcake holders. Bake in preheated oven for 20 minutes, or until a toothpick comes out clean.
Remove the cupcakes from the oven and place them on cooling racks. Meanwhile prepare your icing.
Icing
5 cups powdered sugar (icing sugar)
1 cup Earth Balance or other vegan butter
1 tbsp. vanilla
5 to 8 tbsp. orange juice
This makes enough icing to spread quite generously on top of each cupcake. Cream the sugar, butter, vanilla and 1 tbsp. of orange juice in a food processor, or a mixing bowl with beaters. Slowly add the orange juice one tablespoon at a time until your icing is creamy enough to spread easily, but thick enough that it will hold it's form.. Be very careful not to add too much liquid.
You can read samples of my writing at my author website.
For more fun join me on Facebook.
Tweet me on Twitter.
Friend me on Goodreads.
Check out my Blog.