Vegan Shortbread Cookies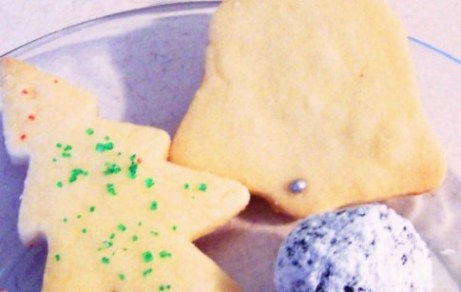 These decorative cookies look so festive on a dessert platter. Make Christmas trees, bells, angels, stars, and other interesting shapes sprinked with red and green sugar or adorned with a silver ball. You can also dip the ends in melted chocolate.
The Ingredients
1 cup vegan butter (like Earth Balance)
2 cups unbleached all-purpose flour
3/4 teaspoon salt (only if you can find an unsalted vegan butter)
1/2 cup sugar
Stir the flour and salt together. With an electric mixer cream the butter in a seperate bowl until fluffy, then add the sugar and continue to mix for about three more minutes. Beat in flour mixture on low just until a dough forms. Don't over mix or cookies will be tough.
Make a disk shape, wrap in plastic, and place in the fridge for an hour or up to 48 hours. On a clean floured counter, push the dough flat with your hands, then roll from the center outward, flouring the top and the rolling pin whenever the dough begins to stick. Use a spatula to free the dough from the counter frequently and twist the dough slightly each time. Continue until it is about 1/2 inch thick.
Line two large cookie sheets with parchment paper and preheat the oven to 325 F. Cut out your shapes and very gently with a small spatula place them on a cookie sheet making sure they don't touch each other or the edge. When the cookie sheet is full place it in the fridge for at least twenty minutes while you roll out the left over dough and fill up the second cookie sheet.
Bake until the edges are barely turning golden, about twenty minutes, but watch them very closely and don't overbake. While the second sheet is baking sprinkle the cookies with colored sugar and add silver balls. Leave some of the cookies with just a silver ball or plain for variety. You can also dip some of the cookies in melted chocolate mixed with a little butter for gloss. Place them gently on a cooling rack. Store them in a cookie tin lined with parchment paper in the fridge or freezer.
You can read samples of my writing at my author website.
For more fun join me on Facebook.
Tweet me on Twitter.
Friend me on Goodreads.
Check out my Blog.