Vegan Pot Pie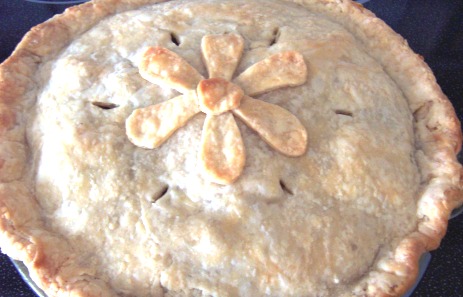 Here is just one version of countless ways to create a comforting vegan pot pie. The crust was homemade, but feel free to substitute a store bought frozen pastry. In this creation I have layered potatoes, green onions, carrots, and lentils; and smothered them with a creamy vegetable sauce.
If you would like to make a homemade crust I describe how to make pastry with my recipe for mincetarts. Since this is for two pies, you will need to double the pastry recipe. You could always half this recipe, but it's not much more work to make two pies, and you could either freeze both pies for Easter or whatever special occasion you have planned, or eat one of them the day you cook them.
Homemade pie crust is always better when it has been in the fridge or freezer for at least a day. It will be much more tender because it has time to rest. And since this pie is time consuming I would not recommend making the whole thing in one day, especially not Easter day!
Here is a little secret that I've discovered makes pastry really tender, just don't tell Martha Stewart I said so, because it's not supposed to be true, and she would be horrified. But it works for me every time. When I take my pastry out of the freezer I thaw it in the microwave, just until it is slightly warm. It rolls out beautifully, and as long as I chill it really well in the freezer just before it goes in the oven, it is more tender than if I did it the traditional way of rolling it cold. A flaky crust forms from the cold fat hitting a very high oven temperature.
The gravy for this pie is made from my Cream of Broccoli Soup, which you can make as much in advance as you like, just stick what you don't need in the freezer. It is a more nutritious and flavouful gravy than standard recipes that just use vegetable bouillion and thickener. And you have the added benefit of having a big pot of soup on hand, making this a very economical pie.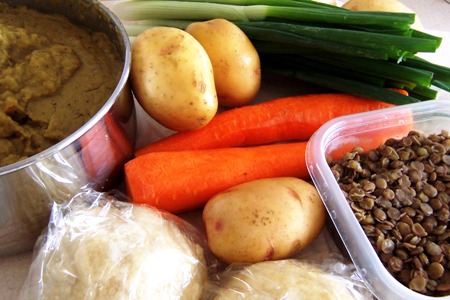 The Gravy
It is best to make this gravy ahead so that it is nice and cool for the benefit of your pastry. You don't want to put hot ingredients onto uncooked pastry. The day you make your soup would be the best time to do so. You could freeze it, as well as your left over soup if you wish. Let the gravy thaw over night, the day before you assemble the pie.
6 cups Cream of Broccoli Soup
1 tsp. coarse sea salt
1/2 tsp. freshly ground black pepper
1 tsp. garlic powder
1 tsp. dried thyme
1 tsp. dried basil
1 tsp. dried oregano
1/8 tsp. cayenne pepper
2 tbsp. nutritional yeast
1/4 cup port wine (optional)
1/4 cup unbleached flour
1/4 cup corn starch (note: if you are from England I do not mean corn flour)
1/3 cup water
Pour the Cream of Broccoli Soup into a medium sized saucepan. Add all of the seasonings and the port (if desired). Put the flour and cornstarch in a measuring cup. To prevent lumps, add the water slowly while you beat the mixture into a smooth paste with a fork.
Stir the paste into the soup and bring to a boil, stirring constantly, while the sauce thickens. Turn the heat down and simmer, continuing to stir for three minutes. Set aside and let cool.
The Pie
3 cups cooked lentils
3 medium white potatoes, peeled, and very thinly sliced
2 medium carrots, finely chopped
3 bunches of green onions, finely chopped
3 tbsp. vegan butter
pastry for two covered pies
Put the sliced potatoes in a small microwavable dish with the vegan butter. Cook them for about five minutes or until they are just tender. Give them plenty of time to cool. Meanwhile roll out two balls of dough and place them in the bottom of two, 11 by 2 inch glass pie plates. Folding the dough in half once rolled makes it easier to lift onto the pie plates. Trim the dough one inch from the edge. Wrap the leftover dough in plastic to use for decorating the pies.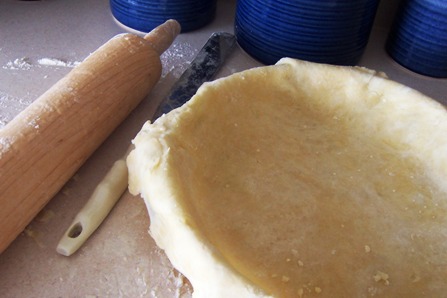 Cover your pastry with a layer of the cooled potatoes, and sprinkle generously with salt and pepper.
Layer half the green onions over the potatoes and cover them with the carrots. Add the lentils, another layer of green onions, and top with the last of the potatoes. Sprinkle with more salt and pepper.
Pour the gravy over the top and spread out evenly, making sure that it does not come too high that it will boil over, and reserving about two cups to pour over the top of the pie when serving.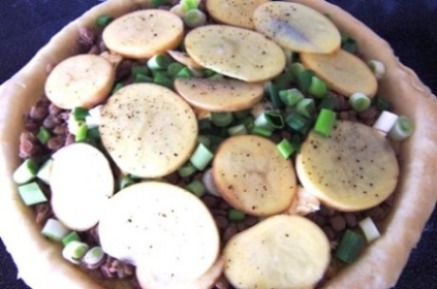 Cover your pies with plastic wrap and put them in the fridge while you roll out two more balls of dough for the tops. Carefully place the pastry over the pie and trim to one inch of the edge. Fold the edge of the pastry under and press down to seal.
You can either use the prongs of a fork to go around the edge or you can crimp it with your fingers. Then use the extra dough to decorate the top. Cut slits evenly to let out the steam. Brush the pastry with melted vegan butter and put the pies in the freezer while your oven heats to 425 degrees. Make sure they are well chilled and your oven is hot.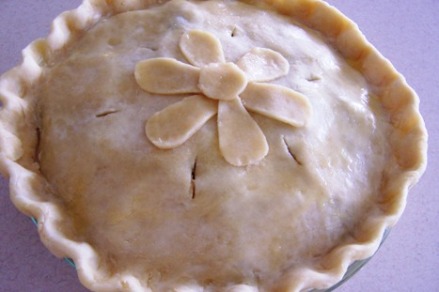 Place the pies just below the middle rack in a pre-heated 425 degree oven for fifteen minutes. Then reduce the temperature to 375 degrees, and cover the rim of the pies with a metal pie ring or foil to prevent the edges from burning. (You can find these rings in most kitchen supply stores and they are very handy.) Cook for another 30 to 40 minutes.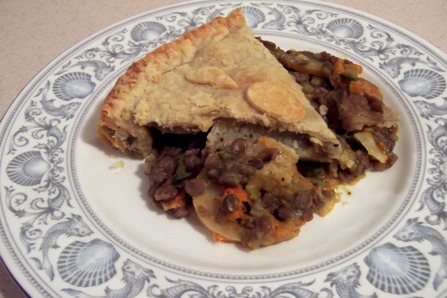 You can now freeze the pies for your upcoming special dinner. After they have cooled thoroughly, wrap them well in plastic. Take them out of the freezer the night before cooking and put them in your fridge. They may be partially frozen when you cook them, which is fine. Re-heat slowly over a few hours starting at 200 degrees, then gradually increase the temperature up to 350 degrees until the juices just start to bubble. This will prevent your crust from getting too brown.
Serve the pie with the gravy for your guests to pour over the top.
back to top of page