Garlic Lover's Tomato Penne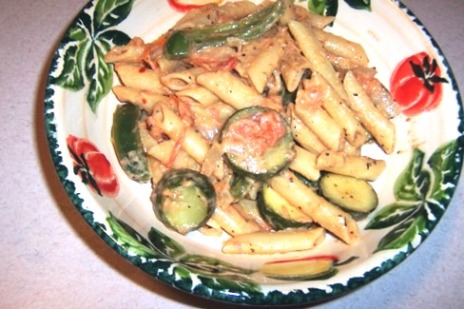 The addition of raw garlic delivers a kick to the sauce, which in this recipe is made from fresh ripe tomatoes.
Tahini (ground sesame seed butter) and lemon add a cheese-like creaminess and zest. The chewy penne is a nice contrast to the crunch of green pepper and zucinni.
A healthy meal that is very satisfying.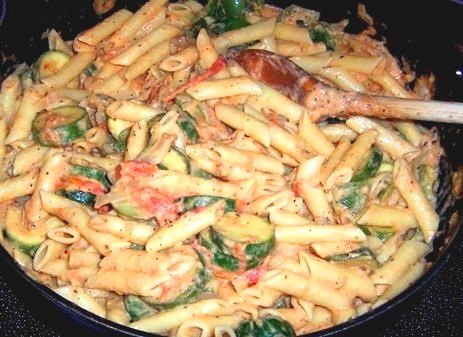 The Ingredients
4 cups penne pasta
1 tbsp. extra virgin olive oil
1 medium yellow onion, diced
4 large ripe tomatoes, cut in wedges
1 tsp. salt
1 tsp. thyme
1 tsp. oregano
tbsp. basil
1 large zucchini, sliced
1 large green pepper, cut in 1 inch strips
1/4 cup tahini (sesame seed butter)
juice of 1 large lemon
2 large cloves garlic, minced
freshly ground black pepper
Cook the penne in a large amount of salted water until it is tender but slightly chewy (al dente).
Meanwhile heat the oil in a large non-stick skillet. Add the onions, tomatoes, and spices. Cook on medium heat until the tomatoes break down into a sauce, stirring frequently to avoid sticking. (If your tomatoes are not very juicy after they have broken down you could add 1/4 cup of water.
Throw in your zucchini and green peppers and continue cooking for about three to five minutes until they are tender crisp. Do not over cook.
Remove from the heat, add the tahini, lemon juice, and garlic. When the pasta is cooked and drained, add it to the skillet and mix well. Sprinkle with black pepper if desired. Serve immediately.
---
Garlic may help prevent heart disease, high blood pressure, high cholesterol, and cancer. It may also regulate blood sugar levels.