Easy Whole Wheat Pancakes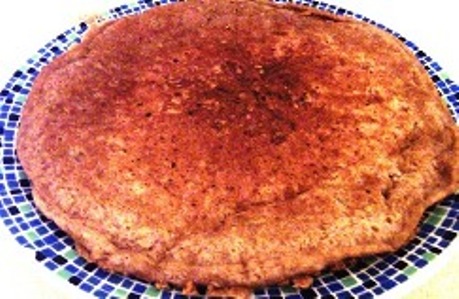 No recipe site can be complete without a good reliable recipe for pancakes. This one is extremely easy to make. When you've done it a few times you will have it in your head and should be able to whip up a batch in 20 minutes without referring to the recipe. Sometimes I get a craving for these late at night and will make them during a few TV commercials; a very bad habit I admit.
You could substitute unbleached white flour if you prefer, but the 100% organic whole wheat ones are just as fluffy and even though I smother them in pure maple syrup, they are somewhat healthier and just as yummy. Try them both ways and you decide.
With two cups of flour you should be able to satisfy four to six people. You can freeze any leftovers. I tend to make two gigantic pancakes just because it's quicker, but eating one of them is really too much for one person. If you do it this way you might want to cut them in half before putting on the syrup because you will regret eating the entire thing!
You might be wondering why these are fluffy without eggs. The little bit of vinegar reacts with the baking soda to form bubbles and make the dough rise. There is no need for any egg replacer.
Put all of the dry ingredients in a bowl and mix together.
The Dry Ingredients
2 cups organic whole wheat flour
1/4 cup sugar
1 1/2 tsp. baking soda
1 tsp. salt
1 tsp. cinnamon
1/8 tsp. ground cloves (optional)
In a one cup measure add 1 tbsp. vinegar. Fill the rest of the cup with soymilk. Pour into the dry ingredients. Then add one other cup of the soymilk. Stir until the lumps are gone but don't over do it or you will loose the bubbles.
The Wet Ingredients
2 cups soymilk or other vegan milk
1 tbsp. apple cider vinegar, or any other vinegar
vegetable oil such as canola or a canola olive oil blend for frying
Heat your pan with a few tablespoons of oil. When a bit of water sizzles in the pan it is ready to pour in the batter. Make one large pancake filling the whole pan if you like or make two or three smaller ones. Turn your heat down immediately to medium low and cook slowly until you see bubbles breaking on the surface.
When the pancake looks like the picture below it is ready to be flipped.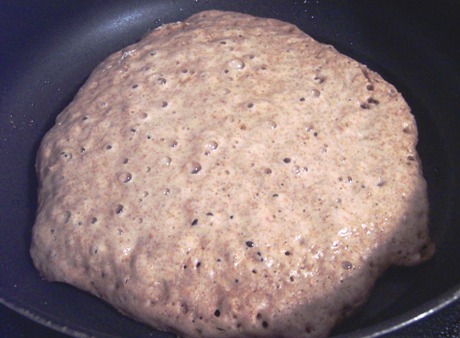 Continue cooking slowly for another five minutes or until the center is thoroughly done. You can put a knife in the centre to test it. When it is done put it on a plate and keep it warm in the oven until the other pancakes are finished. Don't forget to add more oil to the pan for each pancake.
Spread the pancakes with Earth Balance butter if desired, and top with your favourite syrup.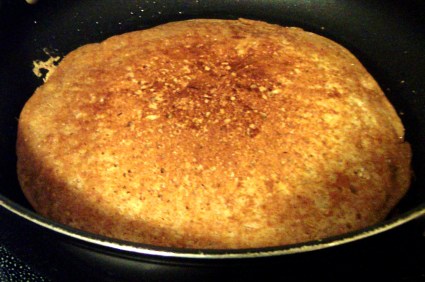 You can read samples of my writing at my author website.
For more fun join me on Facebook.
Tweet me on Twitter.
Friend me on Goodreads.
Check out my Blog.