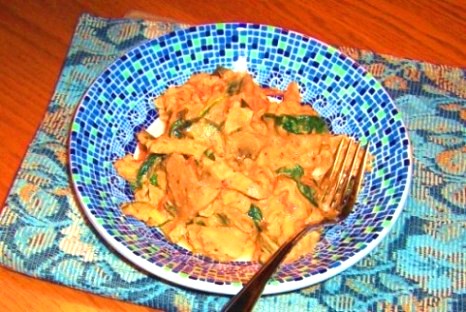 This comforting dish has a thick, creamy, tomato sauce with a zesty cheese-like quality, perfect for a friendly gathering.
Serve it over rice or noodles with a salad and some garlic bread and you'll have more than enough for eight hungry guests. On its own it makes four servings.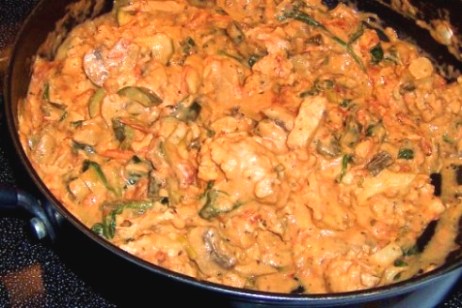 The Ingredients
1 tbsp. olive oil
1 bunch green onions (washed and chopped)
8 medium to large white mushrooms (peeled, washed, and sliced)
4 medium sized ripe tomatoes (washed and cut in wedges)
1 large zucchini (washed and sliced in 1/4 inch semi-circles)
4 cups fresh spinach (optional)
1/8 cup tamari sauce
1/4 cup port or sherry
1 tsp. dried basil
1 tsp. dried oregano
1 tsp. dried thyme
2 cups veggie chicken
1/4 cup sesame seed butter (tahini)
juice of half a lemon
1/8 tsp. cayenne pepper
salt and freshly ground pepper to taste)
Pour the oil into a large saucepan over medium heat. Add the onions, mushrooms, tomatoes, tamari sauce, port, basil, oregano, and thyme.
Cook until the tomatoes break down into a sauce, stirring frequently. Then add the zucchini, veggie chicken and spinach.
Cook stirring constantly until the spinach has just wilted and the zucchini is tender crisp. Remove from the heat. Stir in the tahini, lemon, and the remaining seasonings, adjusting to taste.