Black Bean and Fennel Salad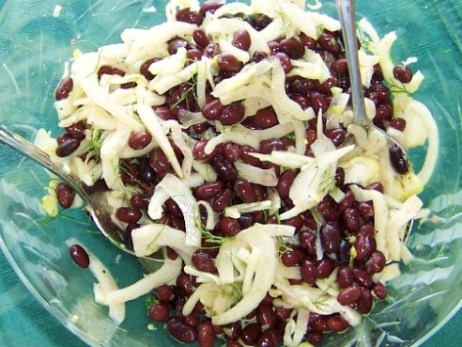 Black Bean and Fennel Salad
This simple salad is rich in protein and fiber and while it makes a nice meal all by itself, it is a tasty complement to a main course grain or pasta dish, and as part of a buffet. We also love this wrapped in a whole wheat pita.
If you haven't discovered fennel, you should give it a try. Even if you are not a fan of liquorice, a flavour and aroma that is characteristic of this bulb vegetable, you will be delightfully surprised at the taste when it is combined with a good dressing or cooked just right. Fennel is also known as sweet anise or Florentine fennel.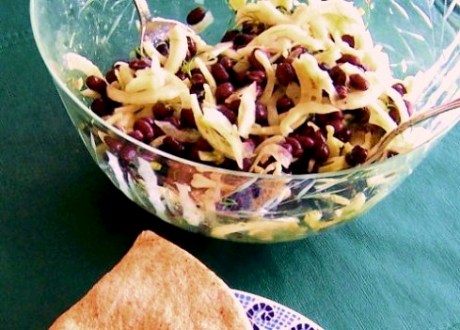 The Ingredients
1 fennel bulb (core removed, washed and coarsely chopped)
2 cups cooked black beans (drained and rinsed)
4 tbsp. extra virgin olive oil
juice from 1/2 of a fresh lemon
2 cloves fresh garlic (minced)
1 tsp. salt
freshly ground pepper
Place fennel and beans in an attractive bowl. Add some of the green tips for color. Combine oil, lemon, garlic, salt, and pepper. Wisk together until the dressing thickens. Pour over the salad and toss. Serves two as a main course.
---
fennel has many health benefits and medicinal qualities. It is high in vitamin C, phyto-nutrients, anti-oxidants, potassium, and folate. It aids in digestion and has been used as a tonic for colic.
You can read samples of my writing at my author website.
For more fun join me on Facebook.
Tweet me on Twitter.
Friend me on Goodreads.
Check out my Blog.