Rustic Rice Dish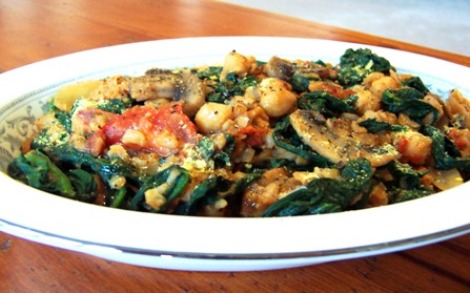 Here is a delicious recipe that makes a very healthy family dinner, but it could also be part of a larger menu for entertaining. I call it rustic because brown rice and chickpeas are an inexpensive but nutritious way to get protein. With the addition of fresh ripe tomatoes, onions, mushrooms, and spinach you have a meal reminiscent of old rural cooking.
The onions are caramelized first with the mushrooms and soy sauce. Then tomato wedges are added with a splash of port wine and cooked down until they make a sweet sauce. This is further reduced so that it adds a thick flavourful coating to the rice.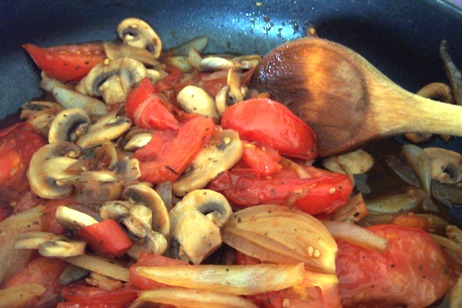 When the rice and chickpeas are added to the thickened sauce and stir-fried for a few minutes, the sauce caramelizes and sweetens even more. The last step is to add fresh spinach and let it wilt into the mixture.
This dish proves my point that having pre-cooked rice and legumes stored in the freezer is a great way you can help your family stick to healthy meals and resist the temptation to spend money eating junky fast food. You will be happy you took the time to do it when you realize how much easier a meal comes together.
I usually have rice, chickpeas, lentils, black beans, kidney beans, and at least one batch of soup on hand. And while I love zapping myself a bowl of homemade soup for lunch most days, once in a while I use a container of it to make a very quick and tasty gravy, by adding a few more spices and thickening it with a mixture of flour and cornstarch.
To me there is something so comforting about a plate of creamy mashed potatoes smothered with a protein, fiber, and vitamin rich gravy, which I make with my Cream of Broccoli Soup. You can see the thumbnail to the left of this paragraph. It is really worth taking a day a week to make a few of these items to freeze.
By the way, if you are into making your own pastry there is nothing better for making it tender than a stay in the freezer. Leave it on the counter to thaw for a couple of hours and you can throw a homemade pie together quicker than you think. Your company will be impressed!
But I'm beginning to digress, so let's get back to the Rustic Rice Dish.
The Ingredients
2 tbsp. olive oil
1 large yellow onion, cut in wedges
2 cups white mushrooms, sliced
1/4 cup soy sauce
2 large ripe tomatoes, cut in wedges
1/4 cup port wine, white or red wine, or 1 tbsp. apple cider vinegar plus 1/4 cup water
1 tbsp. dried basil
1 tsp. dried oregano
1/2 tsp. cayenne pepper
2 1/2 cups cooked brown rice
2 1/2 cups cooked chickpeas
1 tbsp. nutritional yeast
1/2 tsp. black pepper
Heat the oil in a large skillet. Sautee the onions and mushrooms with the soy sauce for about five minutes, or until they are soft.
Add the tomatoes, port, basil, and oregano. Simmer stirring frequently until the tomatoes break up into a sauce. Continue to cook for another five minutes to allow the sauce to reduce by half.
When the tomato sauce has thickened, add the rice, chickpeas, cayenne pepper, nutritional yeast, salt, and black pepper. Cook on medium high heat stirring constantly to further caramelize the sauce together with the rice, for five minutes.
Add your washed spinach and stir together with the rice mixture. When the spinach is wilted remove your pan from the heat. Do not overcook the spinach.
If you are serving this to company you will want it to look especially charming. Place it in a classy, or rustic wooden serving bowl. Drizzle the top with a bit of extra virgin olive oil, a sprinkle of dried basil and some nutritional yeast powder which adds a nice yellow colour and a texture that looks like parmesan cheese and tastes similar. It shows up very nicely against the green of the spinach.
To make it even more interesting you could also sprinkle it with a tablespoon of toasted pine nuts.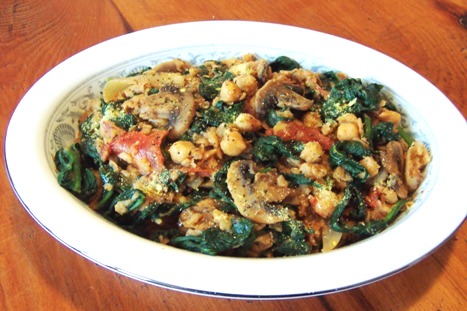 As a main course this serves four people. It would go very well with a nice green salad that has a sweet balsamic dressing and a baguette with vegan butter.
You can read samples of my writing at my author website.
For more fun join me on Facebook.
Tweet me on Twitter.
Friend me on Goodreads.
Check out my Blog.