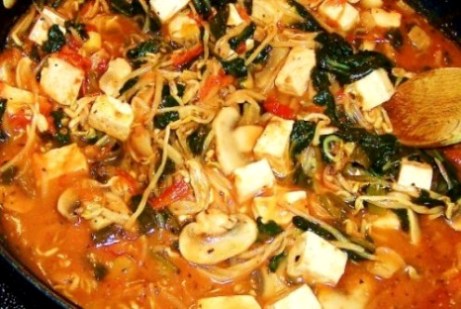 Who says you can't combine Chinese and Mexican. The filling is a spicy sweet and sour stir-fry with lots of crunchy beansprouts, the wrapper- a flour tortilla. It tastes similar to an eggroll but the wrappers are not fried. So easy and delicious.
Prepare the filling the day before your guests arrive for a no fuss brunch. Makes six to eight burritos. The leftovers will keep two days in the fridge or can be frozen.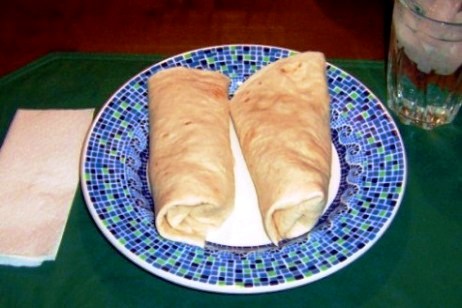 The Ingredients
1 tbsp. olive oil
1 package firm tofu (diced)
2 large tomatoes (washed and cut in small wedges)
1 bunch green onions (washed and chopped)
8 medium mushrooms (washed and sliced)
1/8 cup tamari or soy sauce
1/8 cup port or sherry
1 tsp. dried basil
1 tsp. thyme
1/8 tsp. cayenne pepper
ground pepper
1 bag bean sprouts (4 cups)
4 cups spinach (washed)
1/8 cup maple syrup
2 tbsp. corn starch (dissolved in water)
large flour tortillas (warmed)
Place oil, tofu, tomatoes, green onions, mushrooms, tamari, port, and spices in a large sauté pan.
Cook on medium high heat, stirring until the tomatoes break down into a sauce.
Add the bean sprouts and spinach and cook until the sprouts are tender-crisp and the spinach is just wilted. Stir in the maple syrup and remove from heat.
Mix in the corn starch and return to the heat stirring until the sauce is thickened. Remove from heat immediately taking care not to overcook the vegetables.
Place mixture in tortillas and wrap like a burrito. Serve immediately.
back to top of page