Mince Tarts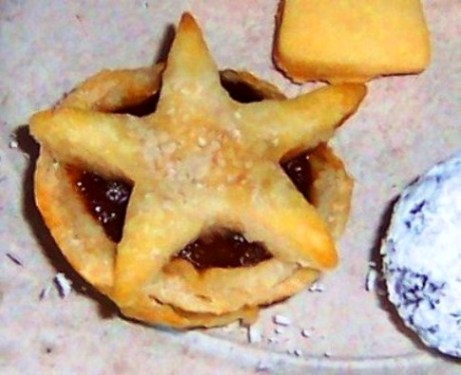 These are naturally vegan if you use the suet-free version of mincemeat. I recommend you buy this to save time. In Canada you can get President's Choice's (5 Minced Fruits) which is delicious. One 700 ml. jar makes 48 two inch tarts. This size makes them nice and delicate, but you can make them larger if you can't find a two inch tart pan. I like to use a star shape for the top and just before serving dust them with a little confectioners sugar. A round lid looks beautiful too but you will need to put a slit in the top to let out the steam when they are baking.
Basically all you need is to find some vegan mincemeat and some pastry dough. Since I think homemade pastry tastes best I will give you my recipe and highly recommend that you try it. Once you get the knack it's simple to mix up several batches of dough to freeze. Freezing relaxes the dough and makes it more tender, and is handy to have on hand so that you can whip up a fresh pie anytime company is coming. I think it's fun but if it's not your thing or you have little time just buy the store bought pie dough.
This recipe will give you enough dough to make at least forty-eight two inch tarts with lids, or two nine inch pastry shells.
Pastry Ingredients
2 1/2 cups unbleached all-purpose flour
1 cup cold shortening
1 tsp. salt
1 tsp. sugar
about 1/2 cup ice water
Mix the flour, salt, and sugar in a large bowl with a rubber spatula or a fork. Add the shortening to the bowl of flour and cut it into about four of five segments. Then use a pastry cutter to cut the shortening further until you have pieces that are roughly the size of small peas. Don't over do it.
Now sprinkle your ice water over the flour a little bit at a time, lightly mixing it either by cutting it in with your spatula or mixing it with a fork. Try to work one area at a time. Too much water will make your pastry tough, but if you don't use enough it won't hold together when you roll it, so the trick is to use just enough water so that when you press the dough together it will hold and roll out nicely. You may not need the whole 1/2 cup so be careful. When the dough holds together make two balls. Handle the dough lightly.
(When you kneed dough it causes the gluten to develop and that makes it tough. Since you don't want your pastry to be the texture of seiten (the vegan protein dish we make from pure wheat gluten) you can't mix pastry dough any more than absolutely necessary.
Wrap your two balls of dough seperately in plastic wrap and store in the fridge for a least one hour before rolling. This relaxes the dough and also helps to make it tender. It is even better to let it sit in the fridge for a few days or to freeze it. This makes it handy anyway since you don't have to make the dough and the tarts in the same day.
Remove dough from fridge and let it warm up for at least half an hour or it will be too hard to roll and will crack. (Trust me, it's okay to roll the dough warm- you chill the dough just before it cooks for a flacky crust.) Dust your clean counter with plenty of flour, and press your dough into a flattened sphere. Sprinkle more flour over the top and on your rolling pin.
Roll from the center outward dusting with flour whenever it gets sticky and using a long spatula to loosen it from the counter. Give it a little turn each time you do this, but remember to be gentle. When the dough is about 1/8 of an inch thick you can use your round 2 1/2 inch cookie cutter (if you tart size is 2 inches) to cut out the the bottom of your tarts.
You will have to roll out the left over dough again a few times but if you are gentle (meaning not to over handle) it should still be tender. After placing all the bottoms in the tin, fill each tart shell with a heaping teaspoon full of the fruit filling. Then cut out stars for the tops- they should be about 2 1/4 inches wide. Before baking put the tarts in the fridge for about twenty minutes. You could even freeze them at this point to be cooked from frozen later. The oven must be hot and the pastry cold for a flaky crust.
Put them in a preheated 425 F. oven on the rack just below the center. Bake until the edges are barely beginning to turn golden, about 12 minutes, but watch them carefully. Let them cool slightly and then gently place them on cooling racks. Cool completely before storing covered in fridge, or in the freezer. Dust lightly with confectioners sugar just before serving. They are really nice if you put them in the oven on warm for a few minutes first.
You can read samples of my writing at my author website.
For more fun join me on Facebook.
Tweet me on Twitter.
Friend me on Goodreads.
Check out my Blog.