Savory Roasted Potatoes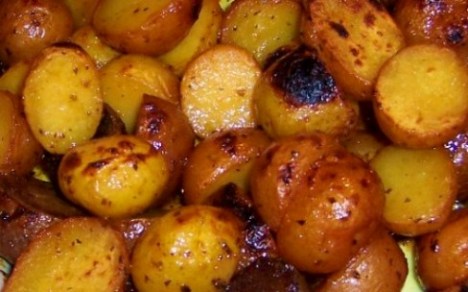 Roasted potatoes are the kind of comfort food that everyone loves. These were especially pretty because they came in a mixture of contrasting colours; white, yellow, and purple; excellent for holiday entertaining, particularly for Christmas, Easter, and Thanksgiving.
The zesty concoction used to baste this dish is a blend of lemon, spices, bouillon, and olive oil - which caramelizes and crisps these little spuds to perfection, and becomes the greatest sauce for basting Spicy Roasted Portabellas - an addition to a vegan dinner party that will be welcomed by those guests who appreciate the beauty of large juicy mushrooms.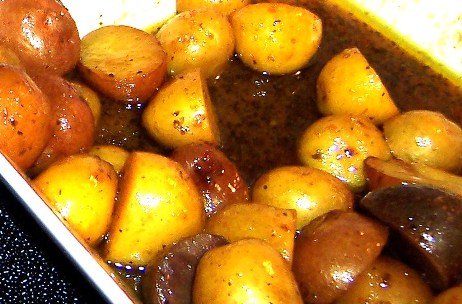 Put the washed potatoes in a 10"x14"x2" oven proof casserole. They should just reach the top of the dish. Mix in all of the ingredients except for the sugar.
The Ingredients
4 pounds multi-coloured baby potatoes (washed with skins on and halved)
1/2 cup extra virgin olive oil
juice of one fresh lemon
2 cups vegetable broth
1 tbsp. turmeric
2 tsp. cayenne pepper (or to taste)
1 tbsp. salt
1 tbsp. freshly ground black pepper
1 tbsp. dried basil
1 tbsp. dried oregano
1 tbsp. dried thyme
2 tbsp. brown sugar
Bake in preheated oven at 375 degrees uncovered for about 40 minutes, taking out to stir and re-baste frequently.
When the potatoes are tender on the inside and crisp on the outside, add the brown sugar and mix well. Taste and adjust seasonings. You may prefer to add a little more sugar, salt, or cayenne pepper.
Cook another 15 minutes or until the gravy has thickened from the sugar. Make sure they don't burn.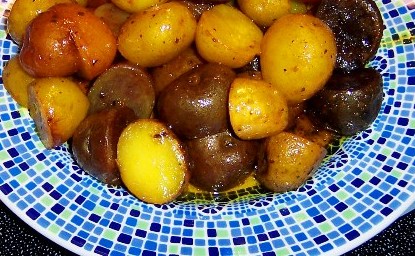 Remove the potatoes temporarily to a large plate so that you can pour the gravy over the Spicy Roasted Portabella Mushrooms, if you are using them.
If not, reserve the gravy for basting another dish like tofu, tempeh, or veggie chicken. (You can freeze it for up to six months.)
Put the potatoes back in the casserole dish for serving. You can reheat them at the last minute, and brown them a little further, but don't cook them the day before as the flavour won't be quite the same. However they do make delicious leftovers for breakfast.
You can read samples of my writing at my author website.
For more fun join me on Facebook.
Tweet me on Twitter.
Friend me on Goodreads.
Check out my Blog.