Chocolate Coconut Balls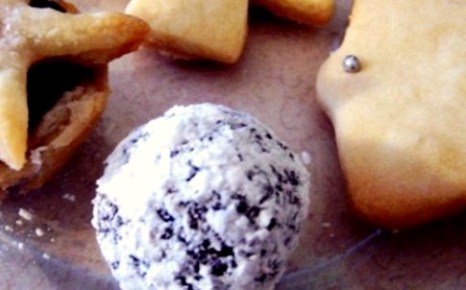 Chocolate Coconut Balls are a must over the holidays as an addition to a large menu or party buffet for a large gathering. Serve these at Christmas, Thanksgiving, Easter, or any time you want a quick, fun, special chocolate treat.
These gorgeous candies are so easy to make with the kids. If you like fudge and milk chocolate you might find these very addictive!
2 cups semi-sweet vegan chocolate chips
1/2 cup vegan butter (like Earth Balance)
1/4 cup soymilk or other non-dairy milk
1/4 cup confectioners sugar (icing sugar)
1/2 cup fine flaked coconut
1/4 tsp. salt
1/4 cup confectioners sugar mixed with 1/4 cup fine flaked coconut (for coating)
Melt the chocolate chips and vegan butter in microwave or double boiler. Add the soymilk, confectioners sugar, coconut, and salt. Mix until the chocolate begins to thicken. You may have to put the mixture in the freezer for a few minutes. Take out and stir frequently. When it reaches the right temperature it will thicken suddenly.
Mix the confectioners sugar and coconut together on a small plate. Form small uniform balls by rolling the chocolate mixture in your hands and then roll them in the coconut mixture.
Store in fridge in a covered tin lined with parchment paper. Let them warm up before serving for a better texture and taste.
You can read samples of my writing at my author website.
For more fun join me on Facebook.
Tweet me on Twitter.
Friend me on Goodreads.
Check out my Blog.