Butter Roasted Asparagus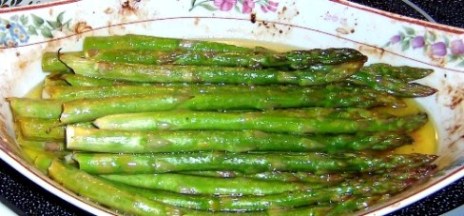 Since aparagus is an early spring vegetable, poking through the ground from the first warm days of the season in early March through to June, they are a perfect side dish for an Easter holiday dinner. Oven roasting is easy and brings out their delicate flavour.
When selecting asparagus make sure the tips are firm and bright green. If they have a khaki color they have gone past their prime. The younger sprouts are the most tender. The older ones tend to have stringy tough stems, so you definitely want to avoid them.
Try to purchase asparagus as close to serving day as possible to assure quality. To store them, trim a little off the ends, put them upright in a tall container with about an inch of water, cover the tops with a plastic bag, and keep them in the fridge.
To prepare asparagus wash them under cold water and snap the bottoms off which tend to be tough and woody. They should break at the point where they are tender.
1 large bunch of asparagus
2 to 3 tbsp. vegan butter or olive oil
salt and freshly ground black pepper to taste
Place the asparagus in a small decorative casserole dish with the butter or oil. Put them in a pre-heated 375 degree oven on the middle rack for about 5 minutes. Take them out and stir them to make sure they are well coated in the butter or oil. Return to the oven for about 10 more minutes or until they are just tender-crisp. Remove them from the oven and sprinkle with the salt and pepper to taste. Serve immediately.
Asparagus has been cultivated from very early times by the ancient Egyptians, Greeks, and Romans. It was also used medicinally as a diaretic. It is a member of the lily family and is high in folic acid.
You can read samples of my writing at my author website.
For more fun join me on Facebook.
Tweet me on Twitter.
Friend me on Goodreads.
Check out my Blog.