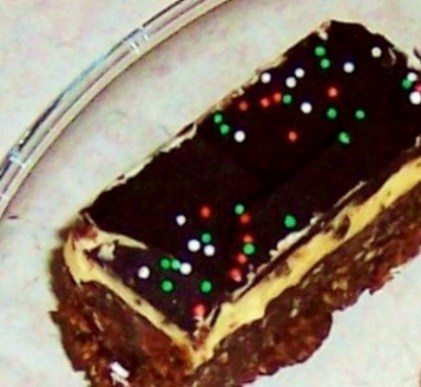 A Nanaimo Bar is a great holiday treat. The delectable crust; a combination of cocoa powder, coconut, pecans, and vegan butter is topped with thin layer of sweet buttery goodness, which is then glossed with a smooth chocolate icing!
This is such a delicious dessert for a Christmas menu. Nanaimo Bars are traditional in Canada at holiday time. They are perfect for a Thanksgiving or Easter menu too. Just decorate them to suit the occasion.
Would you like to make a special vegan treat for your child's Halloween party? Decorate each square with pumpkins or spiders drawn from orange coloured icing.
Whatever the celebration, these chocolaty treats will become a family favourite.
Instead of graham cracker crumbs I like to use Dad's Oatmeal cookies crumbled in a food processor. They make a fantastic crust. I find that pecans work very well in this recipe but you can use walnuts or any other kind of nut you have handy.
The Base
3/4 cup melted vegan butter (like Earth Balance)
1/4 cup sugar
1/3 cup cocoa
2 cups Dad's Oatmeal Cookie Crumbs
1 cup fine flaked coconut
1/2 cup ground pecans
Mix together all of the base ingredients thoroughly. If it is at all dry add a little more butter. Press mixture into a 9" square pan. Refridgerate while making filling.
The Filling
1/4 cup vegan butter
2 tbsp. custard powder
1 tsp. pure vanilla extract
3 tbsp. soymilk or other non-dairy milk
2 cups icing sugar
Cream together butter, custard powder, and vanilla. Gradually blend in the milk and icing sugar alternately. Spread evenly over the base and chill very well before adding the icing, or it will not spread properly.
The Icing
3 oz. semi sweet vegan chocolate chips
1 tbsp. vegan butter
Melt chocolate and butter together in the microwave or in a double boiler. Spread on chilled mixture. Decorate with red, green, and white sprinkles. Let icing set in fridge, then cut into squares with a sharp knife. Keep in fridge.
You can read samples of my writing at my author website.
For more fun join me on Facebook.
Tweet me on Twitter.
Friend me on Goodreads.
Check out my Blog.