Black-Eyed Peas and Sweet Potato Dish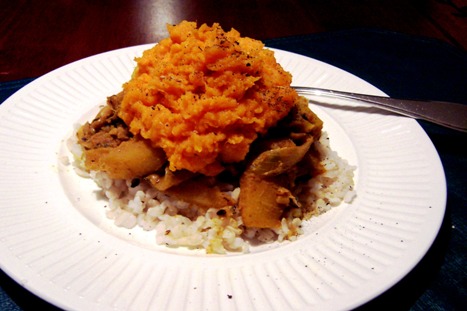 In this delicious and comforting vegan dish, black-eyed peas are combined with cooked onions and apples. Indian spices are used, but without the heat of a traditional curry.
Presented on a bed of brown rice, then topped with mashed sweet potatoes that have been spiked with a touch of maple syrup and vegan butter, this is an unconventional but very tasty dish.
Black eyed peas originated in India, and are a great choice in vegan cuisine because they are are a nutritious source of protein. They are consumed world wide with many different methods of preparation.
Sweet potatoes contain high levels of vitamins A, C, iron, calcium, and beta carotene. This entire dish is extremely high in fiber too, which is an essential part of a healthy diet.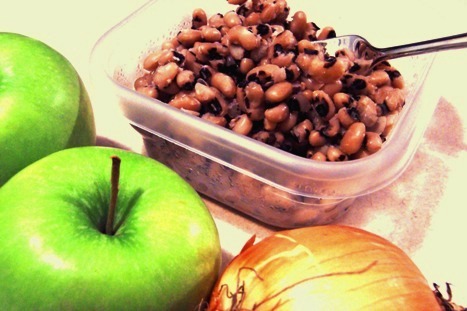 The Ingredients
1 tbsp. vegetable oil
2 cups cooked black eyed peas
2 cups cooked brown rice, heated
2 medium cooking apples
1 large yellow onion, peeled and cut in wedges
3 cups water
1 tsp. turmeric
1 tsp. ground cumin
1 tsp. ground coriander
1/4 tsp. cinnamon
1 tsp. salt
The Sweet Potatoes
2 large sweet potatoes, peeled and cubed
water, just enough to cover the potatoes
1 tbsp. vegan butter (like Earth Balance), or olive oil
2 tbsp. maple syrup
1/4 to 1/2 tsp. cayenne pepper (optional)
Cut the onions into wedges and add to the heated oil in a skillet. Allow them to cook on medium, while you peel, core, and slice your apples. Be sure to stir the onions frequently.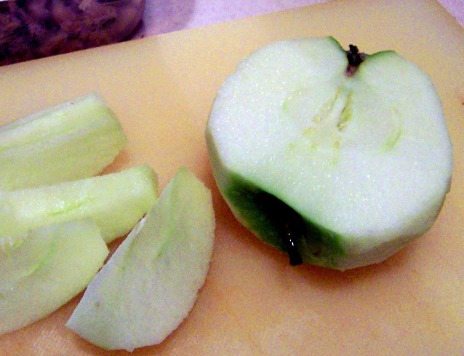 Once the onions have browned slightly, add the apples, water, turmeric, cumin, coriander, cinnamon, and salt.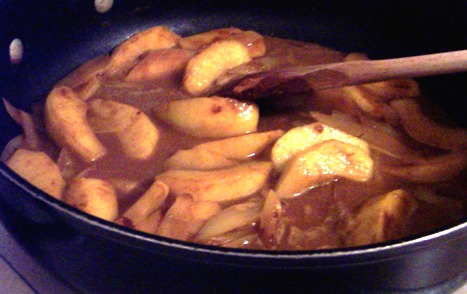 Let the mixture simmer until the apples are soft and the water has evaporated. Stir frequently.
Meanwhile prepare your sweet potatoes. Cover them with water in a medium saucepan, bring the water to a boil, reduce the heat to a simmer, cover and cook until tender.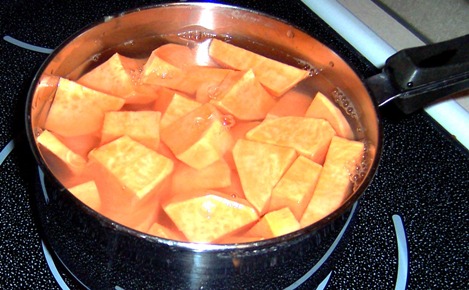 Drain and mash the sweet potatoes with the vegan butter and maple syrup. Season with salt to taste, about one teaspoon, and add the cayenne pepper if desired.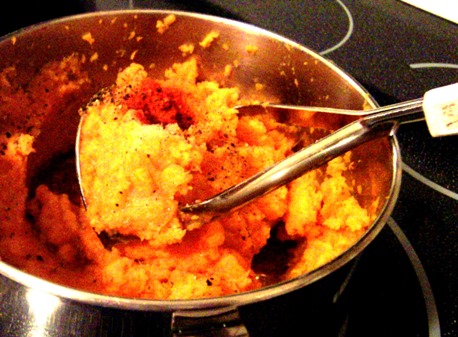 When the water has evapourated in your onion-apple mixture, stir in the black eyed peas and cook for about three minutes.
Place a layer of warm rice on each plate. Top with the black eyed peas and then the mashed sweet potatoes. Sprinkle with freshly ground pepper.
This recipe makes three to four servings.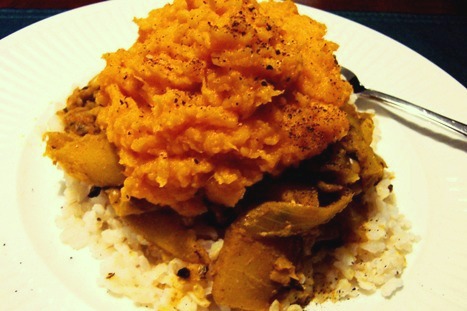 You can read samples of my writing at my author website.
For more fun join me on Facebook.
Tweet me on Twitter.
Friend me on Goodreads.
Check out my Blog.