Vegan Date Squares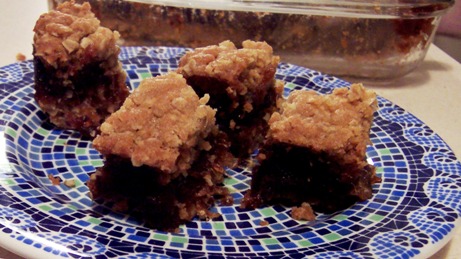 If you like dates these squares are irresistible! The crust is made with rich vegan butter, oatmeal, and brown sugar, but if you can't get vegan butter in your area, vegetable oil works well too.
A touch of fresh lemon juice added to the date mixture enhances the flavour and cuts through the sweetness.
Preheat the oven to 375 degrees with rack positioned at the bottom third of the oven.
The Filling
2 lbs. pitted dates
1 3/4 cups water
1 1/2 cups brown sugar
juice of 1 lemon
2 tbsp. vanilla
Stir together all of the filling ingredients in a large skillet and bring to a boil. Reduce heat and allow to simmer, stirring frequently until the dates have broken down into a smooth filling. Remove from heat.
The Crust
3 cups quick cook oatmeal
3 cups unbleached flour, or whole wheat
2 tsp. baking soda
1 tsp. salt
2 cups brown sugar
2 cups vegan butter (melted), or 1 1/2 cups vegetable oil
In a large bowl, thoroughly combine all of the above ingredients. Pour half of the mixture into a glass 14 x 10 x 2 inch baking dish, and pack down evenly.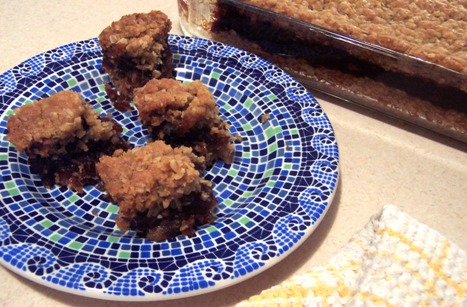 Spread the filling evenly over the bottom crust. Then add the top layer and press firmly.
Bake for 25 minutes, or until the crust is golden brown. Allow to cool before cutting into squares.
If desired, wrap well and store in the freezer.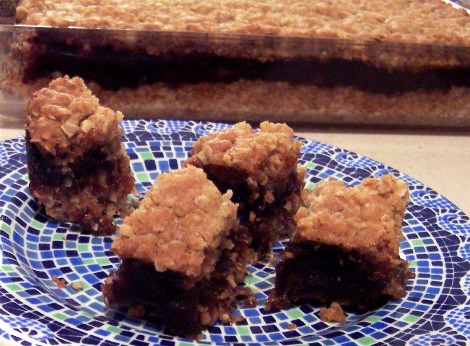 You can read samples of my writing at my author website.
For more fun join me on Facebook.
Tweet me on Twitter.
Friend me on Goodreads.
Check out my Blog.