Traditional Bread Stuffing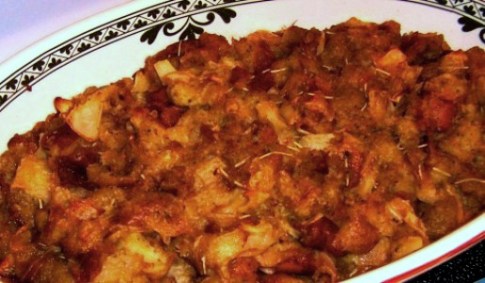 This is the recipe that was passed on from my grandmother to my mother and now to me and we find it a comforting addition to our holiday dinners.
You can make this up to two days in advance and finish the baking on serving day. Serves up to six guests, but you can easily double the recipe.
The Ingredients
1/2 of a loaf of pre-seasoned stuffing bread
1/4 cup vegan butter and two tbsp. olive oil (or just 1/4 cup olive oil)
3 or 4 large yellow onions, chopped
1 tsp. basil
1 tsp. sage
1 tsp. rosemary
another 1/2 cup vegan butter or olive oil
1 cup vegetable broth
salt and black pepper to taste
Sauté all the onions and spices in 1/4 cup of vegan butter or olive oil in a skillet on a medium low heat for about 30 minutes or until the onions are well caramelized. They should be light brown but not burned, and sweet.
Break the stuffing bread into small pieces. Melt 1/2 cup vegan butter in the pan with the caramelized onions and add the bread. Stir to coat all of the bread.
Add the vegetable broth and stir lightly. Do not let the bread get mushy. Remove from the heat and place the stuffing in an oven proof casserole dish.
Bake at 375 degrees for 1/2 an hour or until the stuffing is nicely browned on the top and firm. Serve immediately, or cover and refrigerate up to two days in advance and then reheat in oven on day of serving. Don't forget the cranberry sauce!
You can read samples of my writing at my author website.
For more fun join me on Facebook.
Tweet me on Twitter.
Friend me on Goodreads.
Check out my Blog.