Curried Chickpeas and Broccoli (Chana Masala)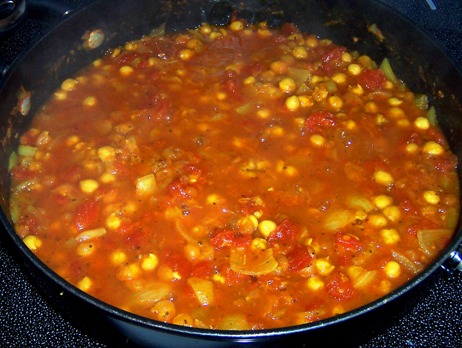 Chana Masala is low in fat, high in protein and fiber, and extremely economical.
Serve with white or brown basmati rice, potatoes, chapatis, or pita bread.
I find the blend of coriander, cumin, chili pepper, ginger, garlic, and other Indian spices irresistable.
I purchased this spice container from an Indian grocery store and love it.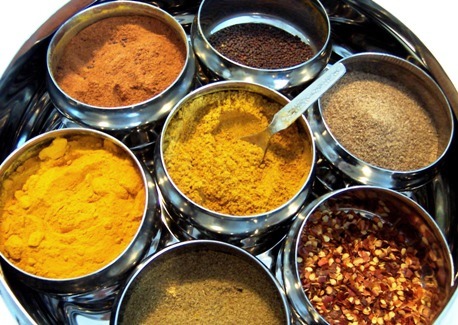 From the top going clockwise, I have mustard seed, coriander, dried chili pepper flakes, cumin, turmeric, cayenne pepper, and in the center is a mild curry powder, which is simply a mixture of Indian spices. You can make your own curry by getting to know the spices and using whatever combinations you like.
I find curried dishes addictive. Note that I have included some unconventional ingredients like port, basil and thyme.
Chana Masala with Broccoli
2 tbsp. olive oil or other vegetable oil
1 onion, diced
1 head broccoli, washed, stem peeled, stem and florets chopped
2 cups cooked chickpeas, canned or frozen
1 28 oz. can diced tomatoes
1/4 cup port, (optional) or a squeeze of fresh lemon
1 cup water
1 tsp. ground coriander seed
1 tsp. turmeric powder
1 tsp. ground cumin seed
1/4 tsp. chili pepper flakes, (or to taste)
1 tsp. salt
2 to 3 cloves garlic, minced
1 tbsp. fresh ginger, peeled and minced
1 tsp. basil (optional)
1/4 tsp. thyme (optional)
Heat the oil in a non-stick skillet. Add the onion, turmeric, coriander, and cumin. Cook for five minutes on medium heat until the onion becomes clear.
Add the chickpeas, tomato, port, garlic, ginger, salt, basil and thyme. Simmer for five minutes to allow the port to reduce, stirring frequently. Then add the water and simmer with the lid on for ten more minutes, stirring occasionally.
Add the broccoli and continue to cook with the lid on for ten more minutes or until the broccoli is bright green and just tender-crisp.
If preparing for a large buffet dinner you can make this one or two days in advance and reheat at the last minute. Serves four to six with the addition of rice or chapatis.
---
The high amount of vitamin C in the broccoli and the tomatoes helps for the absorption of the calcium in the chickpeas.
Broccoli is also high in soluble fiber and contains powerful cancer fighting properties. Stir frying broccoli helps to retain its nutrients. The leaves are also edible and have more beta-carotene than the florets.
You can read samples of my writing at my author website.
For more fun join me on Facebook.
Tweet me on Twitter.
Friend me on Goodreads.
Check out my Blog.