Tomato Rice Casserole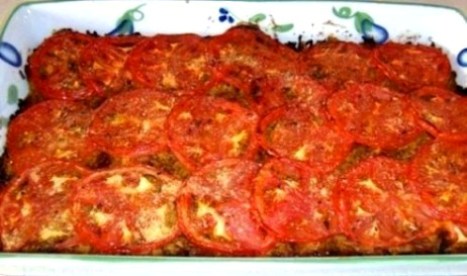 This larger version of my Tomato Rice Tart will satisfy 8 to 10 guests. Roasted red peppers and tomatoes top a scrumptious brown basmati rice crust infused with rich layers of flavour from the buttery-sweet caramelized onions, savory spices, and port wine.
The rice is then drizzled with extra virgin olive oil and baked to a crunchy caramelized goodness. Nutritional yeast adds body, taste, vitamins, and protein, while nobody will ever suspect it is there.
This dish has enough protein to suffice as the main course, but you will want to compliment it with several side dishes. Some suggestions are Black Bean and Fennel Salad, seasoned toasted baguette, cold (or hot) cauliflower soup - depending on the season, and tossed green salad with sweet basmati dressing and candied pecans. (All of these recipes are coming soon.)
The Rice
3 cup basmati rice (rinsed)
12 cups water
3 tbsp. salt
Here is an Indian method for cooking rice which is basically the same procedure we use for pasta. I love this method because you don't have to worry about exact measurements, when to lift the lid, or finding the rice burnt to the bottom of your pot. The one extra step is to wash the rice first which eliminates any debris and some of the starch.
First you pour the rice into a large pot and cover it with warm water. Stir with your fingers until the water becomes milky, then carefully pour the water out without spilling the grains. Repeat until the water is relatively clear. Now you are ready to cook it just the same way you would spaghetti. Just add lots of cold water, salt, bring it to a boil, and simmer until the rice is (al dente). Don't forget to stir, especially before it comes to a full boil.
While the rice is cooking you can prepare the caramelized onions and the roasted red peppers if your doing them yourself. Of course you can always buy a jar to save time.
Pour your cooked rice through a strainer and set aside until the onions are done.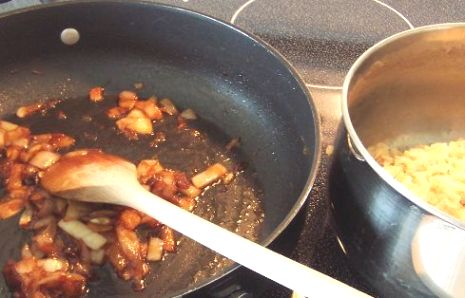 The Onions
1/4 cup extra virgin olive oil
3 large yellow onion, diced
3/4 cup port or cooking sherry
1/3 cup tamari sauce
3 tbsp. basil
1 tbsp. thyme
1 tsp. cayenne pepper
1 tsp. freshly ground black pepper
6 tbsp. vegan butter (like Earth Balance)
juice from 1/2 of a lemon
6 tbsp. nutritional yeast
2 tbsp. turmeric
In a large non-stick skillet heat the oil over medium-low heat and sauté the onions until they are very soft and lightly browned, stirring frequently. Cook slow enough so they do not burn. This takes about half an hour- you may have to turn the heat lower. Then add the port, tamari, basil, and thyme.
Continue cooking and stirring frequently until all of the liquid is reduced and the onions are caramelized.
Add the vegan butter to the onions in the skillet, then add the cooked rice and nutritional yeast. Stir to combine and cook over medium heat for five minutes. Stir in cayenne pepper to taste, black pepper, and lemon juice. Remove from heat.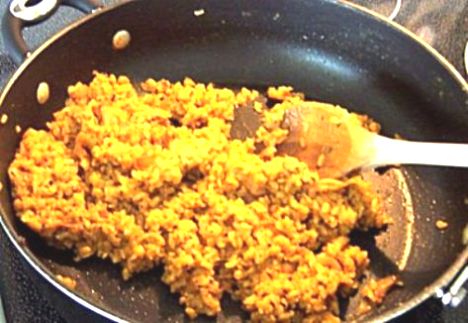 Press the rice into the bottom of a 15 by 10 by 2 inch casserole dish. Bake in the centre of the oven at 425 degrees for about thirty minutes or until the crust is brown and crisp around the edges without letting it burn.
The Toppings
6 large ripe tomatoes, sliced in 1/8 inch rounds
2 to 3 roasted red peppers, cut in 1 inch strips (see directions below)
1/3 cup extra virgin olive oil (for drizzling over the top)
salt and pepper
a sprinkling of nutritional yeast for texture and flavour
Top the crust with the tomato slices, and the roasted red pepper (skin side down).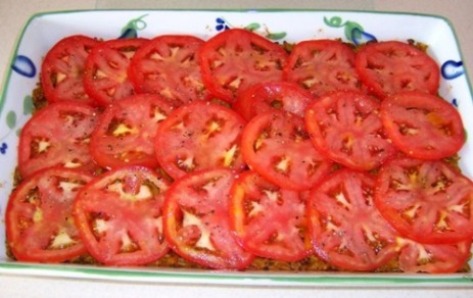 Sprinkle with salt and pepper, drizzle with the oil and lemon juice. Put the tart back in the oven at 400 degrees and bake until the topping is bubbling and browned, which takes about twenty minutes. Sprinkle the top with a touch of nutritional yeast just before serving. It adds a nice texture, color, and a bit of a cheesy flavor.
Note: This recipe can be prepared a day or two ahead and reheated. The taste only gets better. You could also make the rice several days in advance, either alone or mixed with the onions and spices and even store it in the freezer to assemble later. When you are serving a large crowd it is always best to keep it as simple as possible the day of the party.
This serves eight to ten. See Tomato Rice Tart for a smaller version.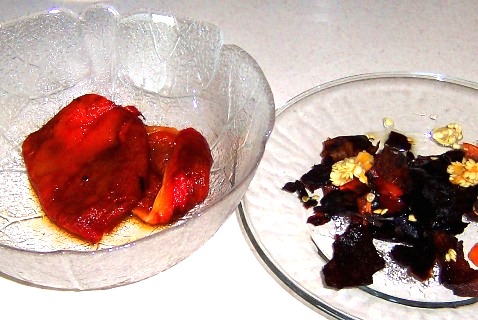 Roasting Red Peppers
Roasting red peppers brings out a wonderful smokey sweet flavour. It can be done on the barbeque or in the oven. For the oven method place the washed peppers on a baking sheet on the top rack of your oven on broil.
Watching them very carefully, allow the skins to blacken while turning them frequently with cooking tongs. When they are completely black all over put them immediately - while still hot - in a bowl with a plate over top for a lid to allow the steam to loosen the skin. Wait at least fifteen minutes or until the peppers are cool. You should then be able to easily peel away the skins.
br>
---
About Turmeric
Turmeric is currently being investigated for possible benefits in Alzheimer's disease, cancer, and liver disorders? It is said to have many medicinal properties and has been used for centuries in India on cuts and burns as an antiseptic. It is also used as an antibacterial agent.
You will find turmeric in many western foods as a coloring agent. It is a main ingredient in mustard. Think how you might use it as a natural food coloring in sauces, rice, white cakes, and even icings. Be careful because it does stain clothing.
You can read samples of my writing at my author website.
For more fun join me on Facebook.
Tweet me on Twitter.
Friend me on Goodreads.
Check out my Blog.