Chocolate Rice Pudding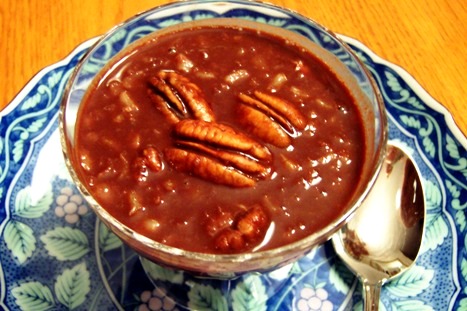 This vegan recipe is for all of those chocolate lovers who crave a little treat that isn't too decadent. One small bowl of this wholesome yet elegant dish leaves you very satisfied. Brown rice, pecans, raisins, cinnamon, chocolate and just a touch of syrup is a pretty nice combination for vegan nutrition and vegan pleasure!
The best part of all is that it takes minutes to make, if you have all the ingredients handy. Here is when that cooked brown rice in the freezer is key.
But just because this vegan recipe is healthy is by no means a reason not to serve it at a very special occasion. The warm chocolaty goodness will be welcomed at all kinds of gatherings from a casual and cozy evening around the fireplace to a formal buffet. It is so easy to to heat up at the last minute. You can be creative and place in a dish that suits the occasion.
The Ingredients
3/4 cup non-dairy milk
1 tbsp. vegan butter or (vegetable oil)
1/2 cup corn syrup, or slightly less maple syrup
1 1/2 tsp. salt
1 tsp. cinnamon
1 cup whole pecans
1/4 cup raisins
1 cup vegan semi-sweet pure chocolate chips
2 1/2 cups cooked brown rice
In a medium saucepan stir together the non-dairy milk, vegan butter, syrup, salt, cinnamon, pecans, and raisins. Heat until the mixture is just about to boil.
Remove from the heat and stir in the chocolate chips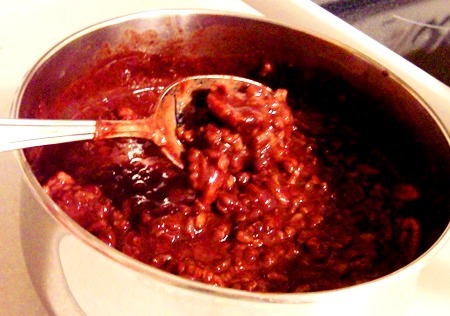 When the chocolate is completely melted add the rice and thoroughly combine. The rice should not be cold but room temperature or even slightly warmed in the microwave.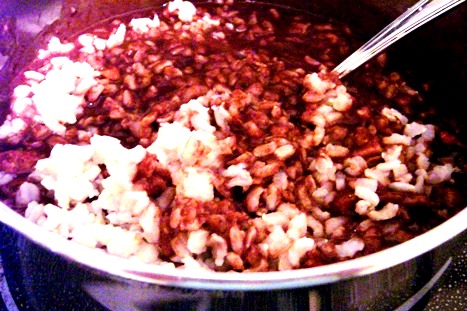 You can serve immediately or reheat later. The temperature should be warm but not hot. Remember that adding very hot food to certain kinds of glass can cause it to crack and also too much heat is not good for the chocolate, so be careful if you are reheating it on the stove not to let it burn.
The best way to reheat is in the microwave, on low heat on the stove being careful to stir frequently, or covered in the oven on warm.
This vegan recipe should make approximately eight small bowls of chocolate rice pudding. For an informal event, rustic bowls are a good choice. For an elegant formal party, crystal or glassware with stems will look divine.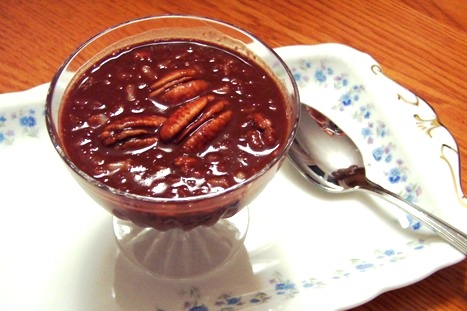 You can store in the fridge in a covered container for up to three days before the gathering. Do not try to heat in the microwave in a glass dish unless it is meant for the microwave.
You can read samples of my writing at my author website.
For more fun join me on Facebook.
Tweet me on Twitter.
Friend me on Goodreads.
Check out my Blog.